The first step to start getting quotes and hiring the best tradesperson for your project is to list your job.
It's free to list a job on our platform and just takes a few simple steps:
On the Service.com.au homepage, enter the service or trade in the search field.

Click the Get Started button.

Follow the prompts to enter details on your request such as:

Location
Property type
Type of work to be completed
Items that need work
Emergency status
Attach relevant files and images
Description
Contact information

At the end, you'll see a confirmation with instructions verify your account using an email that'll be sent to the email address you used to create the posting.



Create a user profile with your email address. A password will be automatically generated for you and sent to the email address you use when posting a job. (If you don't see the email in your inbox, check your Spam folder.)
You use the buttons at the bottom of the confirmation to post another job or go to your dashboard to view your posted job and quotes.

To maximise the accuracy, relevance, and range of quotes you receive, you can make sure you've completed all the information, including selecting the right business type, budget, time frames, and contact details entered. See more information about how it works
here
.
Once you post your job, businesses can start submitting quotes for your job. Depending on the industry and location, most jobs get roughly 3-5 quotes. From there, all you need is to pick the best business for your job.
You can log back into your profile anytime to make changes, review quotes, and see the businesses that you have used in the past.
Edit your job:
On your dashboard, click on the job you want to edit.

Click the Actions dropdown.

Select "Edit job."

Use the form to edit your job details and click "Update" at the end.

View your closed jobs:
Click on the menu button in the top corner of the screen.

Select "Jobs."

Click on "View Closed" to see a list of your previous jobs.
A list of your completed jobs will appear.

From the closed job list, you can see your previous quotes for old jobs:
Select the closed job you want to review previous quotes from.

Quotes for that job will appear on the listing page.

Contact a business:
To contact the business, click the Contact button.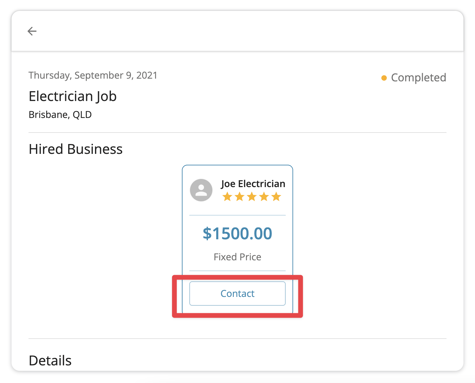 A popup will appear with the business' contact details, such as:
Phone number
Link to message on our platform
Email address
Profile link